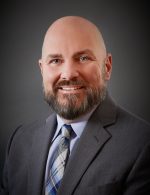 Randy Griffin
Randy Griffin, D.D.S., began full-time employment as director of the Lake Union Adventist Community Health Initiative on January 15, 2015. 
Randy was a pastor's kid whose parents served as missionaries in Brazil and Uruguay before returning to the States to pastorates in Texas and Arkansas. Griffin earned a bachelor of arts in biology at Southwestern Adventist University in 1990 and, in 1994, earned the Doctor of Dental Surgery degree from Indiana University School of Dentistry.
He practiced dentistry from 1994–2012, and opened a private practice in 1996, in which he managed all aspects of the business. In addition to servicing fee-for-service patients, Randy also provided dental services for lower income/needy patients for a reduced rate or charged no fees. Since 2011, Randy also has volunteered as a consulting dentist at Hope Clinic in Cicero, a clinic for low-income individuals, and has been instrumental in the coordination of dental volunteers and supplies.
From January 2013 through November 2014, Randy served as nighttime program director for the Forever Faithful International Pathfinder Camporee, held August 12–17, 2014, in Oshkosh, Wis. Approximately 47,000 Pathfinders attended the event.
Since 2003, Randy also has participated in various overseas mission trips, including destinations such as El Salvador, Nicaragua, Nepal, St. Lucia, Kenya, Mexico, Tanzania, Ecuador and Fiji. He donated his dental services and supplies on many of these trips, and also participated in evangelism initiatives. Griffin co-presented a nightly evangelistic series in Pradesh, India, in 2006.
Randy and his wife Kathy (Brewer) Griffin have been married 25 years. Kathy is an English teacher and director of development and recruiting at Indiana Academy in Cicero. The Griffins have three sons: Mitchell, Nick and Gabe.