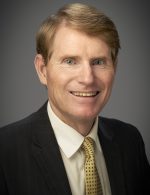 Nicholas Miller
Nicholas Miller joined our Lake Union team in 2016 serving as our Public Affairs and Religious Liberty director and legal counsel while continuing to serve as associate professor of Church History at the Adventist Theological Seminary on the campus of Andrews University.
Miller received his Bachelor's degree in 1989 from Pacific Union College, Angwin, Calif., where he was the Student Association president; National Merit Scholar and Taft Law Scholar. Prior to attending PUC, he studied at Newbold College, Bracknell, England, where he was editor of the student paper, The Prism. He was in the top 10 percent of his class at Columbia University School of law, New York, New York, where he received his JD in 1992, was a Stone Scholar and served on the Board of Editors, Columbia Law Review. He also served as president of the local chapter of the Christian Legal Society. Miller went on to get his Masters degree and PhD in 2010 from the University of Notre Dame, South Bend, Indiana, in Religious and legal history from the Reformation to present, with a focus on Western Europe and North America church/state developments.
Miller served on the Council on Religious Freedom, Rockville, Maryland, from 1997 to 2000 as Executive Director and Attorney. He appeared before the U.S. Supreme Court in the case of Mitchell v. Helms; and authored and contributed to a number of other Supreme Court briefs in addition to a broad spectrum of work in the area of religious freedom.
In addition to a number of scholarly publications, Miller has written two books: The Religious Roots of the First Amendment: Dissenting Protestants and the Separation of Church and State, Oxford University Press, 20 12, and General Editor and contributor to Homosexuality, Marriage, and the Church: Biblical, Counseling, and Religious Liber ty Issues, Andrews University Press, 2012.