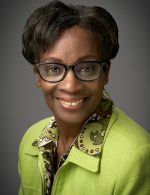 Ruth Horton
Ruth Horton has been called by God and has dedicated her life to serve the Lord in educational ministry. She exudes a passion for learning and for providing quality, meaningful, lasting, Christ-centered education.
Ruth, originally from the island of Dominica, is married to Pastor Dr. Michael Horton, Ministerial Director of the Lake Region Conference and pastor of the Emmanuel SDA Church located in Chicago Heights, IL. They have three sons.
Ruth holds an Associate of Arts Degree in Business Administration from Caribbean Union College, (now University of the Southern Caribbean), a BA in English and an MA Educational Administration from Andrews University, and a Doctorate in Educational Leadership from National-Louis University- National College of Education. Her work at the Kindergarten through University levels, in public, private, and parochial schools; as well in the role of Superintendent of Education for the Lake Region Conference and later the Illinois Conference, have been transforming agents in her life.
Ruth currently serves as the Director of Education for the Lake Union Conference located in Berrien Springs, Michigan, where she works in partnership to oversee the educational programs in its PreK-12 schools. She also enjoys serving the Lord as lecturer, preacher, presenter and teacher.