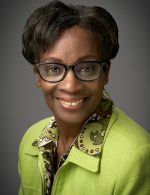 Ruth Horton
In 2015, Ruth Horton was invited to serve as associate director of education of the Lake Union Conference. From the early age of 17 to today, Ruth has nurtured a life-long career in education. Her drive for learning drew her away from the scenic island of Dominica, where she was born and grew up, to hone the skills and transformative practices she would need as a teacher and educational leader.
As an educator in both public and parochial schools, at the elementary through university levels, Ruth has embraced the truth that "knowledge of God is the foundation of all right education" Counsels to Teachers, p. 422. As such, Ruth has served in the East Caribbean Conference, beginning in 1977, and subsequently in the Michigan, Illinois, Lake Region conferences, then back to Illinois, as teacher and administrator. She has also served as a public school teacher and administrator both in Michigan and Illinois.
In 2007, Ruth accepted the call to serve as Educational Superintendent of the Lake Region Conference, and in 2011, she returned to the Illinois Conference to serve as Educational Superintendent.
A speaker/presenter, Ruth frequently speaks at churches and conducts workshops, including in education, personal ministries and women's ministries. She also presents at conferences and conventions.
Ruth holds a B.A. and M.A. from Andrews University, and a Doctorate in Educational Leadership from National-Louis University. She is married to Michael Horton, ministerial director of the Lake Region Conference and pastor of the Emmanuel SDA Church in Chicago Heights, Illinois. They have three sons: Michael, Elijah and Isaiah.
Ruth enjoys her family, gardening, reading, learning and consulting. She relishes the work of education and desires to follow God's leading in her work and for her life.