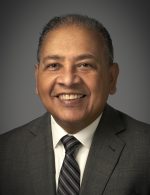 Carmelo Mercado
Carmelo began pastoring in the Indiana Conference, in Hammond, Indiana. In 1980, he received from It Is Written a request for Bible information from a family who lived in East Chicago, Indiana. He gave the family Bible studies and baptized the mother, father and their daughter, Rosanne, in the Adventist faith. In 1986, he married Rosanne, who currently works as an occupational therapist at St. Joseph hospital in South Bend, Indiana.
Carmelo had the opportunity to serve his entire pastoral ministry in Indiana, serving in cities like Gary, Hammond, East Chicago, Richmond, Connersville, New Castle, Indianapolis, Brownsburg, Martinsville and Fort Wayne. He also served as Hispanic coordinator for the Indiana Conference for five years, and also served as NET '98 Hispanic coordinator in 1998.
Carmelo has served in his current role as general vice president for 11 years. He is also Multicultural Ministries director for the Lake Union and secretary for the Adventist-laymen's Services & Industries (ASI) Lake Union chapter.